Traditional dairy solutions | cows
Adapted to your business size and needs
SAC offers different milking systems to suit your needs and requirements and the size of your herd. Needless to say, they have been developed to make your daily work as efficient and enjoyable as possible. We care about the comfort of both the cow and the milker. You're able to work quickly, efficiently, and without bending into difficult positions, and the cows have sturdy surroundings that allow them to move easily. Our milking systems are designed for the efficient milking of large numbers of cows so the entire process is as profitable as possible, while respecting the cows' space requirements. It's very simple to us: your dairy farm needs to be healthy.
Innovation products
SAC's milking parlours are developed based on our many years of experience in milking cows. Innovative products such as the balance arm and the automatic vacuum regulation reduce the strain and improve and accelerate the milking process. We don't just care about the animals' comfort; we care about the milker too.
Side-by-side and Swing-over | 90 degrees
Herringbone and Swing-over | 60 and 30 degrees

YOUR HERD IN GOOD HANDS
Complete control and a good overview
Apollo Farm Control gives you more control over your dairy farm's key parameters. The up-to-date data from Apollo Farm Control allows you manage your daily routines more efficiently and keep a close eye on your herd. You set up your ongoing processes, such as milking, feed concentrate boxes, selection boxes, animal identification and heat detection, according to your own wishes and needs.  
The benefits for you
graphical overview of all data
clear overview of your livestock
easy to enter data for multiple animals
simple and user-friendly
24/7 access, anytime, anywhere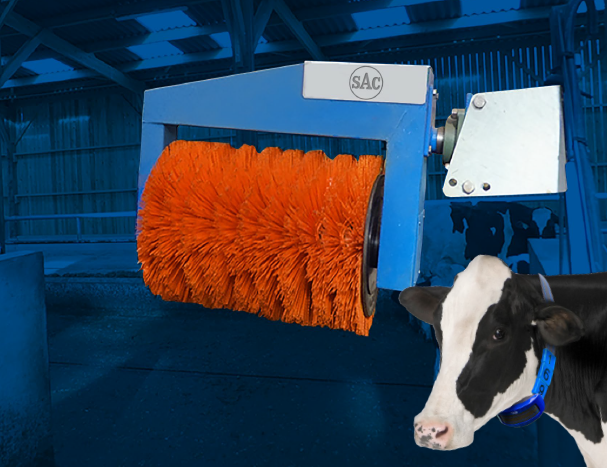 SAC Cow Brush
The SAC Cow Brush contributes to optimal health for your cows. Your cows are cleaner, as parasites and other vermin are easily  removed by this durable brush. Especially in places the cow cannot reach herself. It also reduces stress in the herd, improving  cow welfare and resulting in higher milk productivity.