GEMINI | Robotic Dairy Solutions | cows
EFFICIENT AND ENJOYABLE MILKING
Gemini powered by SAC is designed to make your daily work as efficient and enjoyable as possible and focuses on the cow, the milk and the milker. It enables you to milk well, quickly and fully automatically, so your cows can perform at their best. You manage your own time and don't
have to worry about 'available' personnel. This leaves you more time to organize your work and private life the way you wish.
YEARS OF EXPERIENCE
The milking robot has been developed on many years of experience. Innovative features such as milking between the rear legs (which gives very calm cows). By using a 3D camera the cows are connected better and faster which results in less stress for the cow. We know how important your cow's and your own comfort are and we research this every day to give you the best solution possible.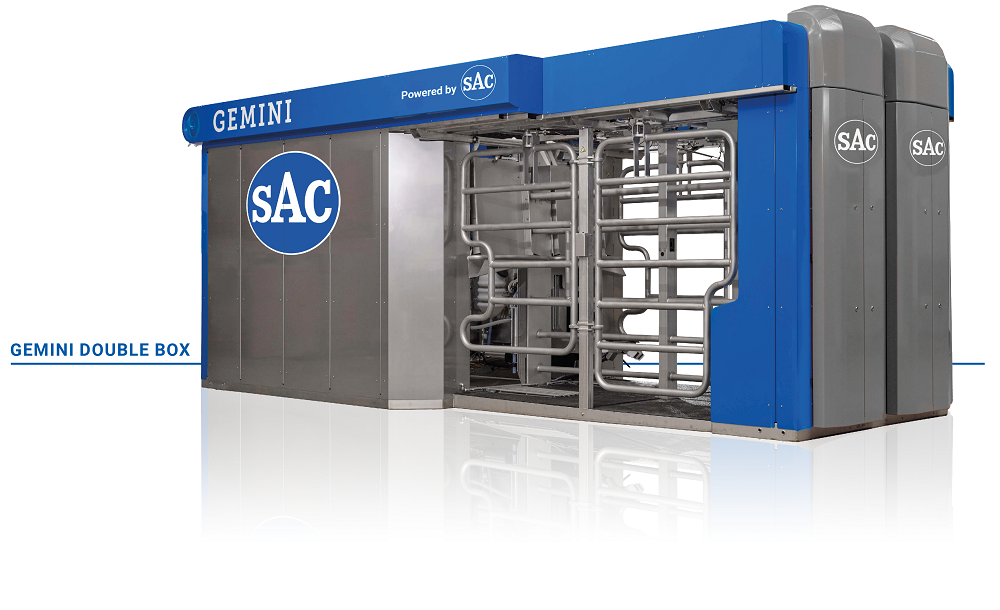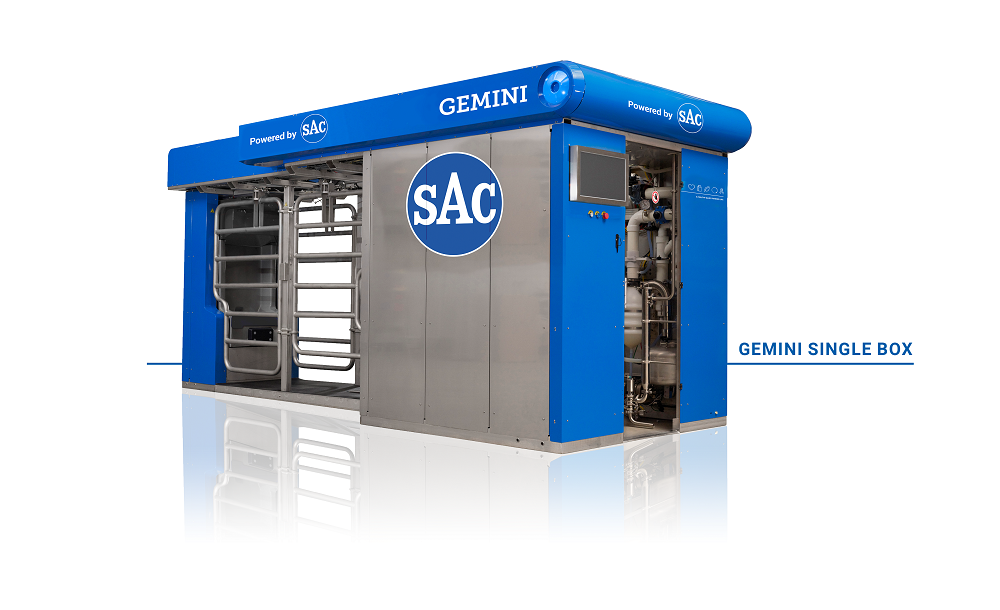 MILKING BETWEEN THE REAR LEGS
Attachment is done between the rear legs as in a side-by-side milking parlour. The cow is relaxed and comfortable and has no visual distraction from the moving robotarm. The cow can therefore be milked properly, completely and maintains her normal routine.
OPTIMAL UDDER PREPARATION
Each teat is individually prepared for milking in a special pre-milk teat cup. This process focuses on optimal teat cleaning, teat stimulation, pre-milking and maximum oxytocin production for the best milk release. When preparation is complete, the milking cups are attached and milking starts immediately. The whole preparation process takes 60-90 seconds, as long as the cow needs to have a good oxytocin release and a good milk let-down.
UNOBSTURCTED VIEW AND HERD CONTACT
Thanks to the milking robot's open design, the cow has a unobstructed view, giving her the feeling that she is still with the herd. This experience is even more enhanced in a double box system where cows stand freely but are still next to each other.
INDIVIDUAL QUARTER MEASUREMENT
The milk from each individual teat is screened and analysed and the data is directly available to the dairy farmer's mobile devices, providing useful insights on milk quality and cow health. This allows for better follow-up and optimisation of overall cow management. 
SAFE AND CONVENIENT
Because of milk between the rear legs, you have a safe and convenient way to manually attach or handle the cows only in exceptional situation when needed. The robust stainless steel system and milking between rear legs minimises the cows ability to kick against you or the machine parts.
FLEXIBLE AND SMART SELECTION
The selection system offers almost endless possibilities for manual selection and selection based on cow data. You can come up with numerous selection gates and various data criteria such as time, calendar, attentions and general cow information.
GROW WITH YOUR HERD
SAC offers a solution for every farm type and management style, regardless of herd size. Farmers with expansion plans can easily combine single- and double box solutions in the same barn, customized to their individual farm needs, now and in the future.
INTEGRATED TECHNICAL ROOM
The milking robot's operating area is completely closed-off and is provided with an overpressure ventilation system. All components are easily accessible in the clear and spacious layout of the technical area. The system is hygienic, advanced and can easily be accessed and controlled remotely by yourself or service technicians using a computer, smartphone or a tablet. Since the milking robot needs very little room in the barn with its minimized footprint and unique positioning of the technical area, the paths of the dairy farmer and the cows will not cross. This also improves cow flow in general.
PLUG AND PLAY
The milking robots are quick and easy to install. Only a few building alterations are required, building a complete robotroom is not needed. The milking robots can be placed in both an existing and a new situation for an ideal walking route of the cows. All you need are milk pipes, electricity, air pipes, water and an internet connection. Each system is thoroughly tested before leaving the factory, ensuring that it is fully operational in a short time.
COMFORTABLE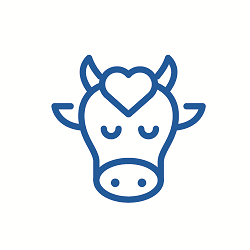 COMPLETE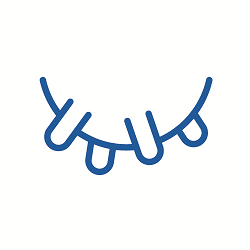 FAST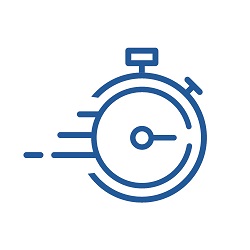 Robot technology | GEMINI
DUALFIT: FETCH TWO TEAT CUPS AT ONCE
The milking robots are equipped with a unique dual attachment functionality; an intelligently designed mechanical head that allows the robotarm to fetch  two teat cups at once resulting in efficient arm movement. By reducing the arm movement, this double grabber increases the cow throughput and maximizes box performance.
SAC ADVANCES INTERFACE
The software technology in the Gemini is extremely userfriendly. There is a  wealth of information and functions available to you for making herd management decisions. This allows you to troubleshoot issues very effectively and easily. You have multiple ways to access and manage information: computer, smartphone, tablet as well as at the robot itself via a multi-functional touchscreen. All the important information you need can be  accessed via this large, robust touchscreen which is installed on the robot. Both the computer and the touchscreen are equipped with powerful processors to automate functions and access key data.
TIME-OF-FLIGHT CAMERA
With the cameras time-of-flight technology, the exact teat position can be determined. Thanks to this advanced technology, our milking robots achieve the best connection results. A 3D analysis of the teats is carried out, making the location even more accurate. The waterproof stainless steel 3D camera has a flat front for easy cleaning.
TEAT TEACH SCREEN
The Teat Teach Screen brings the image of the udder on the screen. The operator can simply touch the teat ends of the image to 'teach' the camera where that cows teats are. This can be done for cows that have difficult teat placement. The robot will then remember the location of the teats when the cow comes back into the box, and make the attachment process much more efficient.
UPGRADABLE BY EQUIPMENT AND SOFTWARE
The Gemini is easily upgradable by equipment and software. Since technological evolution in robot milking has sped up exponentially, you as a forward-thinking dairy farmer can easily follow-up on the latest innovations in your robot. This is not the norm in the industry but it is our company phylosophy and is quite an advantage.
USER-FRIENDLY, EASY TO OPERATE BY ANYONE
SAC's milking robot is easy to operate. As it is user-friendly, you can easily hand over the management to another trained operator, saving yourself a great deal of time. Do you need extra time to focus on something else? Would you like spending time with your family or to enjoy a relaxing holiday? Don't worry, when you need time for other things, almost anyone can be trained to properly operate the robot and take over when needed.
REALTIME HEALTH MONITORING AND GPS LOCALIZATION
With SAC Unitrack you have a valuable device to locate and monitor your  cows in real time. Heat, rumination, eating time and activity is measured 24 hours a day. Cow Positioning accurately tracks and shows the current position of individual or multiple cows on your barn floor plan with one click on your computer, smartphone or tablet. Coupled with the HerdMetrix™ phone app, the data are accessible anywhere so that you have a constant stream of information. Customized for you to help with Heat Detection, Health monitoring and Herd performance trends.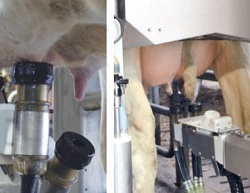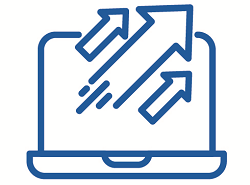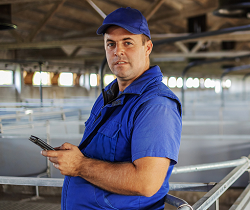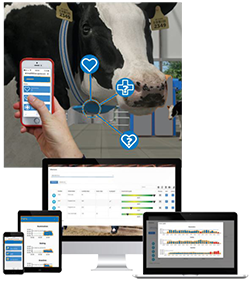 SUPPORT
DEALER NETWORK - LOCAL SUPPORT
We know how important it is that your milking robot works properly. The experienced service organisation of your local SAC-dealer is here for you to give you all necessary advice and support. Whether by phone, online or in person on the site. With 24-hour availability, you can receive appropriate assistance at any time of the day. This ensures a short response time and immediate support when needed. After all, it is important that you (and your employees) can do your job the best way possible and your dairy farm runs smoothly. 
MINIMIZE YOUR COST
Our experienced service organisation will be happy to advise you on preventive maintenance, improvements and service agreements. Our high-quality maintenance protocols are important for a smooth-running milking
robot. Reduce your costs and optimise your system. This will keep your milking installation reliable and efficient for years to come.
SACADEMY
To ensure that everyone within SAC is up-to-date with tomorrow's knowledge and technology, we share our knowledge and experience at the SACademy. This is our training facility for SAC-dealers and technicians. All technicians follow SAC's recognised training courses. This assures you of the best possible service and support. We are here to advise and support you. With over 80 years of experience in milking technology, we share our knowledge and experience to give you the best possible service.